HP OfficeJet Pro X576dw Review
HP OfficeJet Pro X576dw Wireless Multi-Function Color Inkjet Business Printer – Rising Star on Amazon Best Sellers
The HP OfficeJet Pro X576dw has an innovative design using incredibly effective technology to give you high quality and ultra-crisp prints. I was extremely impressed when I saw this printer in action. The manufacturer, HP, did an amazing job. Let's get straight into the details, followed by some comparison charts and a conclusion at the end of this review.
Performance Stats
The HP OfficeJet Pro X576dw is capable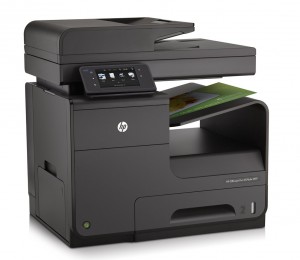 of printing at 70ppm (pages per minute) for both mono and color. In April 2012 this printer was labeled the fastest  inkjet desktop printer to print 500 pages in the world, by Guinness world of records. The most crazy about this is probably that it's an inkjet printer.
However, to get this kind of speed, you will have to print in a draft mode, called General Office. So you're not always going to reach this high speed. The good news is that the draft mode preserves high quality prints.
The text is very sharp thanks to the precision of the print heads and the fast drying pigment based inks, offering laser light quality. I would have to say that the general office setting would be great for documents used in the office as well as basic documents to send out, like invoices and letters.
Energy Friendly
The speed that these machines are capable of is down to the page wide technology and solid print heads. It's the same kind of technology found in HP's top-end digital presses. They print the whole with of the page rather than having print heads running back and forth along the rail and this makes for an extremely efficient print method, while also saving time and energy. In fact, HP is saying that this machine can use up to 50% less energy than his laser competitors.
High Yield
This multi-function printer has a recommended duty cycle of around 4000-5000 pages per month, making it perfect for small to medium sized businesses with a work group of up to 10 or 12 people. You have the option to use high yielding ink cartridges with this machine (which I recommend), giving you 6600 pages for color and 9200 pages for black.
Using these huge cartridges is advantageous as they give u  a lower cost per page than the lower yield alternative cartridges. Most competitive laser printers from the same price point as this machine, are not capable of achieving the same yield.
Apps for the X576dw
The X576dw also comes with apps designed for making your working life a little easier. For example there is Google docs. You also have the option to download apps to the printer from HP Connected. So let's say you have a lot of business cards, then you can scan them and store the information with an app called biz card. You can even have a newspaper downloaded, printed and ready for you every morning, thanks to HP connected.
I included a chart from Amazon to give you a quick comparison.

Easy to Connect
You can connect to the X576dw via both Ethernet and USB cables. This machine also has built-in Wi-Fi capabilities allowing us to connect to a wireless network with no cables at all. You can use HP mobile apps and its air print compatible so both staff and visitors can easily print from their windows Android or IOS devices.
There is a USB flash drive port for both direct printing and scanning and this is built into the side of the adjustable and easy to read touch screen display.
A quick note on the touch screen display. With some printers, the touch screen can feel a little clumsy and difficult to use. This one however works extremely well.
Scanning
The 50sheet adf (automatic document feeder) can scan 1 or both sides of a page, making for nice looking scans. You also have the option to make searchable pdf's.
Searchable pdf's will be absolutely perfect for when you need to digitalize large files. Basically when scanning  a hard copy, the scanner reads the document and recognizes text. This text is then saved in a different layer in the same file. So when reading the pdf on a computer you can search for specific words. This will be great for digitizing invoices or old inventory sheets and employee information.
Capacity
There's a total paper capacity of 1050 sheets of paper with this printer, with the use of an additional tray. Although the 550 pages right of the box is likely to be enough for most users.
As an inkjet printer there is little in term of warm up time, with the 1st page out in under 10sec. There is no heat being applied to the paper in the printing process, so we can print on various media like glossy photo paper without our prints being spoiled. This also means we can print on preprinted letterheads without any issues (which sometimes isn't the case with laser printers).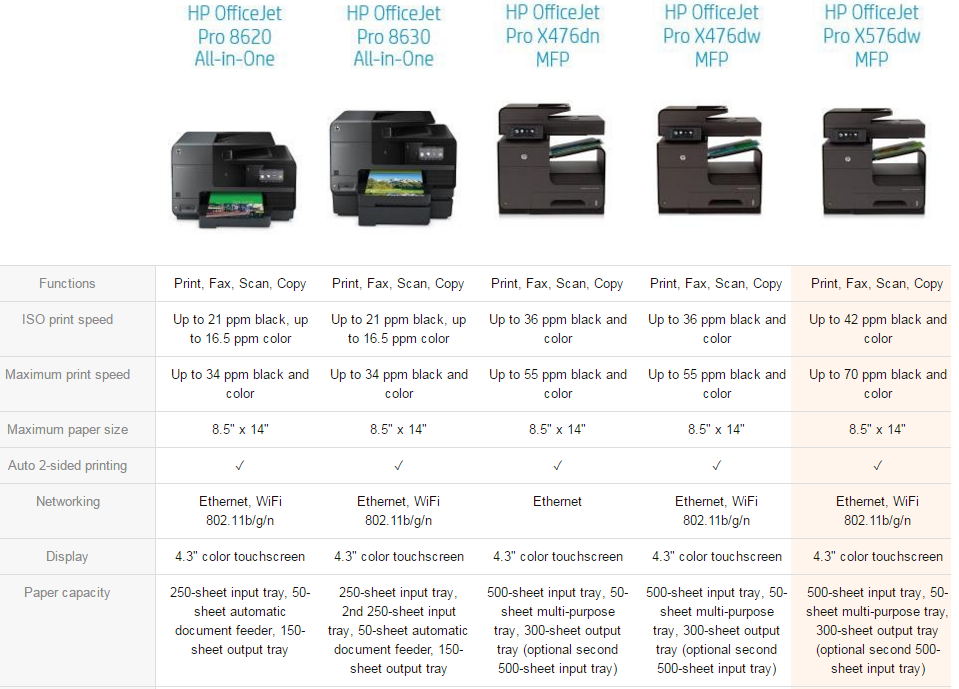 Conclusion
To conclude, whether you are working in a school, medium or small sized office, the X576dw total cost of ownership will make it a worthwhile investment.  After all who doesn't like the sound of printing on 1.6 pages per sec J. By reading my review you can tell I didn't mention many weak points of the HP OfficeJet Pro X576dw. This printer is just that good in my opinion.
If you have any questions, don't hesitate to leave a comment below or check out my other reviews.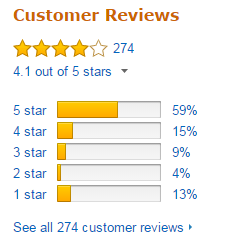 Share This: