Canon Pixma Pro-100 Review
If you are looking for a professional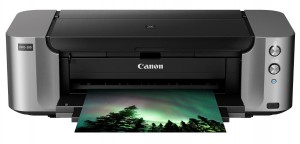 photo printer, then you should definitely read this full Canon Pixma Pro-100 review. Overall I'm really pleased with this wireless model and the quality it's capable of delivering. It's very budget friendly once you have it (It costs you under a dollar for an 8 by 10 copy). You can actually make insane photo's that are comparable to printing lab quality. I will talk about some general features and then highlight what I did/didn't like about this machine.
Design
This machine is huge, it's not your small desk jet that will sit on top of your computer desk and not take up any space. It's big and its heavy. It weighs over 40 pounds so it's kind of a pain to move. On the other hand, it gives you the ability to print large images. 13 by 19 inch is the largest size that you can make and it's a pretty good size for let's say posters and collages. It has 8 ink tanks in it and 3 of them are your black and grey colors for black and white prints.
Connection
The Pro-100 has built-in Wi-Fi, which is great if you want to put it someplace else (because of its sizeJ). If you are like me, you are short on space and you need to have it in a different room, the Wi-Fi capability is great. Setting this up is child's play. Furtermore it's also equiped with Air Print and mobile device printing.
Superb Quality
Any printed images are superb, the pictures just come out looking great. It uses a dye based ink system, which gives you very vibrant colors and those are in my opinion better than the pigment inks that are out there. I'm pretty happy with the results I've gotten.
I get a lot of requests to make photography images as well and It's just great to make them with this model. This also goes for portrait photos and black and white photos.
To be honest with you I really can't see a difference between what comes out of this printer and what a print service would do for me. Now, granted I'm not an expert in printing photos like that. I don't have prints hanging in galleries, museums, exhibits or anything like that. I do know that there are a lot of people in the world who probably could tell the difference, but I simply can't J. So I'm pretty happy with it and I would suggest it to anybody.
Speed
The speed on the pro 100 is actually a little faster than the more expensive pro-1. It's a little bit slower than some other Pixma Pro models but we are talking about a couple of seconds difference. It's not anything significant and it shouldn't really affect which type you decide to go with. Any of them are going to take about 2 min from start to finish for an 8 by 10, from the time you push print until the final product comes out.
On top of that It's also very quiet, quieter than most of the other best Canon office printers I've had in the past.
Paper/glossy paper
Now the paper that I like to use with it. I'm
not a big fan of the paper some companies used to ship with their printers in the past. I'm talking about the classic glossy paper. This is the typical paper you will find in your nearby store for this kind of device. Mainly I don't like it for 2 reasons. To me it looks cheap and the prints can get scratched incredibly easy. Obviously there are a lot of people who like it, or else it wouldn't be sold at every store but that's my personal preference. I prefer Canons Luster photo paper if I want something with a glossy finish.  The Luster photo paper  is a little more scratch resistant and I think it looks better in general.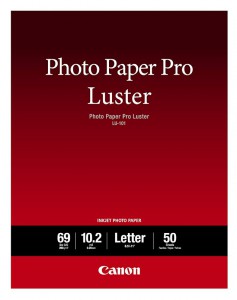 This machine will print on your thick paper stock and your various hard types of paper, this can go pretty wide. Personally I haven't used any of those special print media with this model. Not because the machine won't handle it or because I've done it and I was unhappy with it. I am just very happy with the Luster paper like I said and I didn't have much requests for anything else as of yet.
Conclusion
Overall I am very happy with this purchase. I have had no complaints from customers who also bought this model so far. All in all I think this is a great printer for anybody who needs to deliver professional quality to customers or somebody who just wants to print at home. Yes, there is an initial startup cost, but in the long run, especially if you are printing a lot of pictures, its much cheaper than your all-in-on type. Having a dedicated photo printer gives you the ability to make really large, good looking prints. I hope you liked my Canon Pixma Pro-100 review .
Hopefully this answers all your questions about this model and if you would still have any, feel free to ask them below and I'll be more than happy to answer them for you.
Share This: