Canon PIXMA MP990 Review
Canon PIXMA MP990 Wireless Inkjet Photo All-In-
One Printer review
The Canon Pixma MP990 Wireless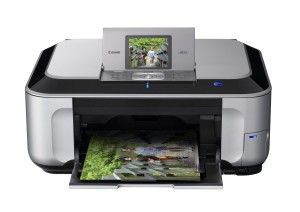 Inkjet Photo All-in-one printer is one of my favorite printers in the mid-range category. The performance and value for money this printer offers is something hard to come in my experience.
Design
Canon did a great job providing a successor for the Canon PIXMA MP980. With the 'P' in MP990 standing for Photo, it's supposed to deliver high-quality pictures. Just like its predecessor, the MP990 comes with memory card slots and a PictBridge connector so you can print directly from your USB flash memory drive, digital camera or phone camera. On top of that its equipped with a Bluetooth unit and Wifi to let you print wireless from anywhere in the house. Of course you can always make use of a USB 2.0 Hi-Speed cable in case you want a super-fast connection or if you have larger files to transfer. Other Canon models and by extension other brands didn't always have such a wide range of connection options. So this is definitely a point in favor of the PIXMA MP990.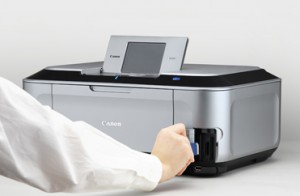 Unlike most home printers, the PIXMA MP990 is equipped with two 150-sheet paper trays. This comes in handy for the obvious reason that you don't have to refill paper as fast as with other printers. However, the biggest advantage it brings is that you can load up 2 different kinds of paper (for example plain paper in 1 tray and photo paper in the other). This makes it very easy to switch printing between different documents.
Setup
I installed this printer both on a Mac and a PC very simple. Setup of all the drivers was very easy, you just have to follow the guided directions. When there is a driver update you can always download them from the Canon website. Both wireless and Ethernet connections worked just fine for me.
The printer setup of the PIXMA MP990 doesn't differ much from other printers. Simply unpack, plug in the power cord, install the drivers and load in the print nozzle, ink cartridges and the paper of your choice.
Performance and Speed
The PIXMA MP990 provides amazing photographic images.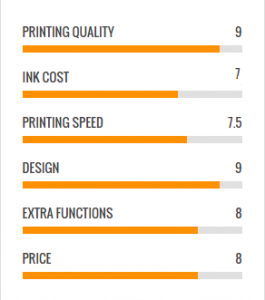 To get the best results, I recommend to use Canon Photo Pro II Paper. I can't imagine getting better photos from another printer at this price. I printed photos from all sorts of sources and with different settings and the results were always stunning.
The printer also scored very well on graphics and text quality. Printing in high quality mode resulted in some really nice graphics. However, as with most Canon inkjets, some graphics can add a small curl to the paper. To prevent this I suggest to use heavier paper.
Text quality is what you would expect from a photo printer. Most printed texts are good enough for home or business use, but overall the quality is a little below most inkjet printers. I wouldn't use this printer to print out very small fonts or thin lines, as it might lose those.
When considering speed, the PIXMA MP990 isn't going to outperform some of the fastest printers. However, for an inkjet printer with such high photo printing capabilities, the speed is above average. Needless to say that you aren't aiming for speed with this kind of printer anyway. I would definitely say that photo printing is its strongest point, outweighing its lack of speed quite a lot.
Conclusion
The Canon PIXMA MP990 is a big improvement on the previous models. Both for home and office users, this printer can be a strong asset, especially for photo printing, but also as an all-in-one printer. The features and performance are on top of its category and I would certainly recommend this printer. I hope you enjoyed this Canon PIXMA MP990 review. Feel free to ask me any questions.
Share This: