Hp Sprocket Portable Photo Printer Review
The HP Sprocket is a Bluetooth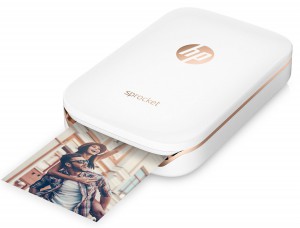 portable printer at its best. This device will allow you to print 2 by 3 inch color photos in seconds from your IOS or Android device. The Sprocket comes in 2 different colors, black and white.  No ink is required as it uses the Zero Ink technology from ZINK.
You can also use the printouts as stickers. As the paper it's printed on is actually sticker paper. This is a new mobile printer that will allow you to print on the go. As of right now this is probably the best portable photo printer in my opinion. I'll explain to you why and talk some more about the details in this review. If you like HP make sure to check out my top rated hp printers here.
Design
It has a very nice design and is pretty light. The printer itself doesn't have many buttons on it. Just a power and a reset button. Other than that there are also some status indicating lights and a charging port. It looks pretty neat and I really love the glossy look. Like I said when you order you can choose between a black and a white colored printer. The printer itself is pretty small and can fit into your pocket.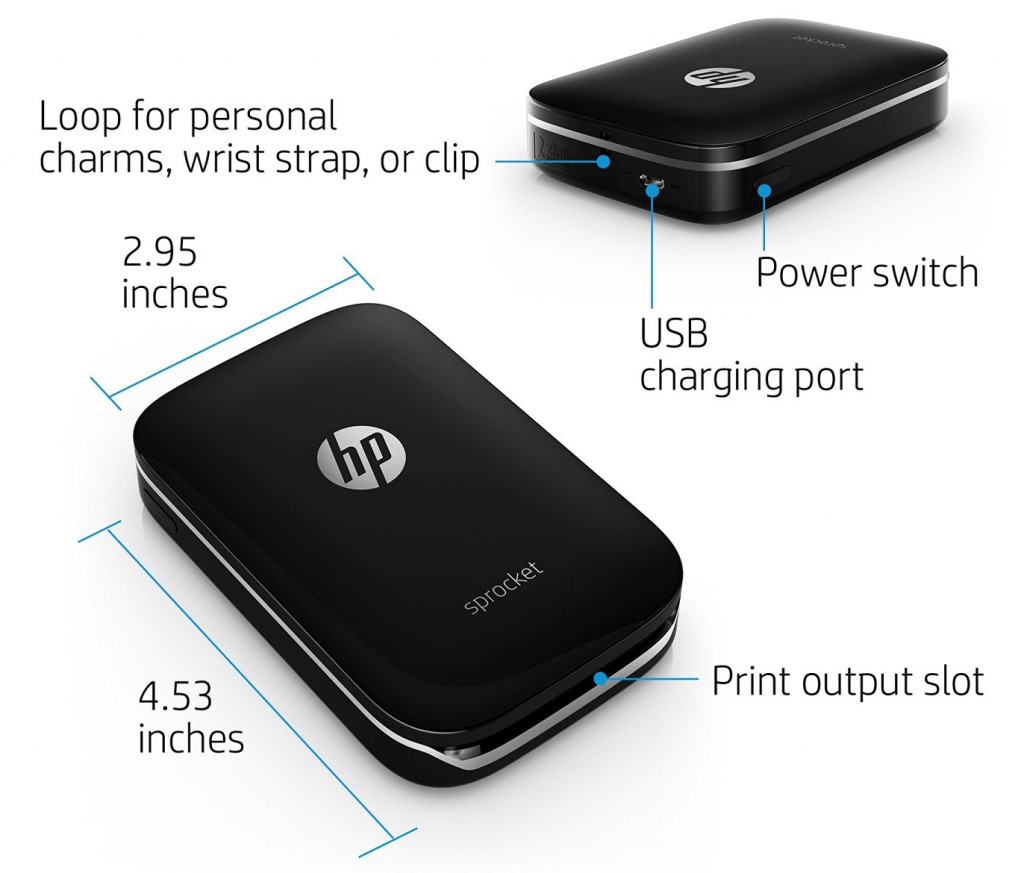 Unboxing and how to get started!
So when you open up the box the first thing you will see is the HP Sprocket portable photo Printer. Other than the printer you also get a setup card, the HP ZINK sticky-backed paper, a micro USB-cable for charging (takes about 60 to 90 min to fully charge the battery) and a regulatory information sheet.
To load the paper you need to remove the top cover of the printer. This is done very easily by sliding the cover back gently.
On your mobile device, open a web browser and go to hpsprocket.com to download the free HP Sprocket mobile App. You can connect the app to your Instagram, flicker and/or Facebook accounts to print pictures instantly from each one of those accounts. It's also possible to buy print sheets through the app.
Edit your own pictures
You can edit everything in the editing mode. When editing, you can insert text boxes, change the font, change the color of that font, add borders, add a filter, emojis… There are quite some options available for you to customize your images. On top of that editing is extremely easy and straightforward to do.
When you press the print button you will have your photo in less than a minute. The quality is not perfect (like in a photo lab) but it's definitely nice. You would be amazed.
No ink involved?
I was super thrilled with the results this no-ink printer can produce. Like I said earlier, you won't need any ink to use this printing machine. All you need is the sticky-backed paper from ZINK. The ZINK printing technology puts crystals on every sheet that show up as specific colors when they are heated up. Only a few other devices use this special paper too. The technology is kind of amazing if you ask me. When you buy this printer you will get 10 sheets of paper included and a recplacement pack of 20 sheets only costs around $10. Don't forget that every piece of paper is a sticker too.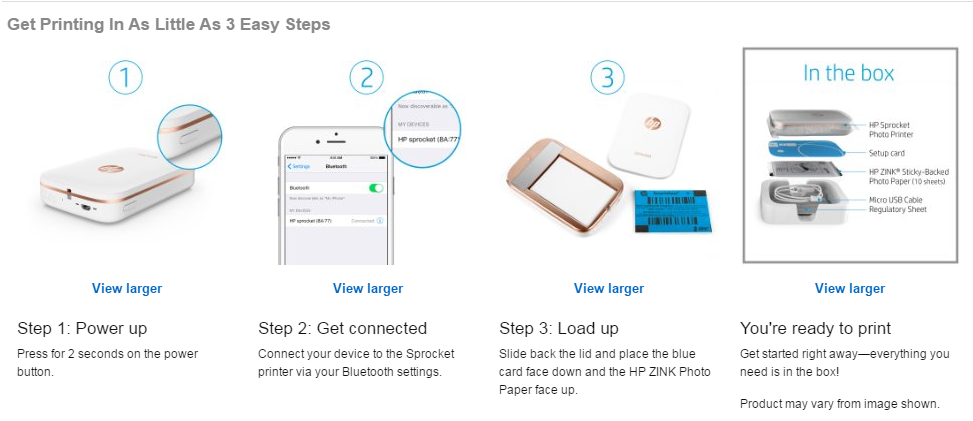 Conclusion
So, should you get it? The HP Sprocket printer is absolutely amazing to show up with at a party for example. Since you can just take a picture of whatever you want and print it immediately. This printer is a lot of fun and I can definitely recommend it to everybody who is looking for a good portable photo printer.
If you would have any questions left, please feel free to leave a comment below.
Vince
Share This: