HP LaserJet Enterprise M606 Review
HP LaserJet Enterprise M606dn and M606x comparison and review
The HP LaserJet Enterprise M606 is an easy choice for those who want the fastest and efficient laser printer on the market, without losing quality. HP LaserJet Enterprise M606 is a top rated printer addressing every possible detail to uphold the benchmark as the best laser printer. However, if speed isn't your main concern, then this bad boy may not be for you. I'm going to make a complete analysis as to why this printer may be worthless for some people and an absolute monster to others. Make sure to also check out my other printer reviews to find the best printer for you.
M606dn or M606x?
First of all, when talking about the HP LaserJet Enterprise M606, there is a small distinction between the M606dn and the M606x. The M606dn has 2 input trays, a 100-sheet multipurpose tray and a 500-sheet standard input tray. Whereas the M606x has 3 trays. Another 500-sheet standard input tray has been added. The network options for the M606x are also a bit different. The wireless network option makes it possible to print from mobile devices. I included a comparison table below to clear things up.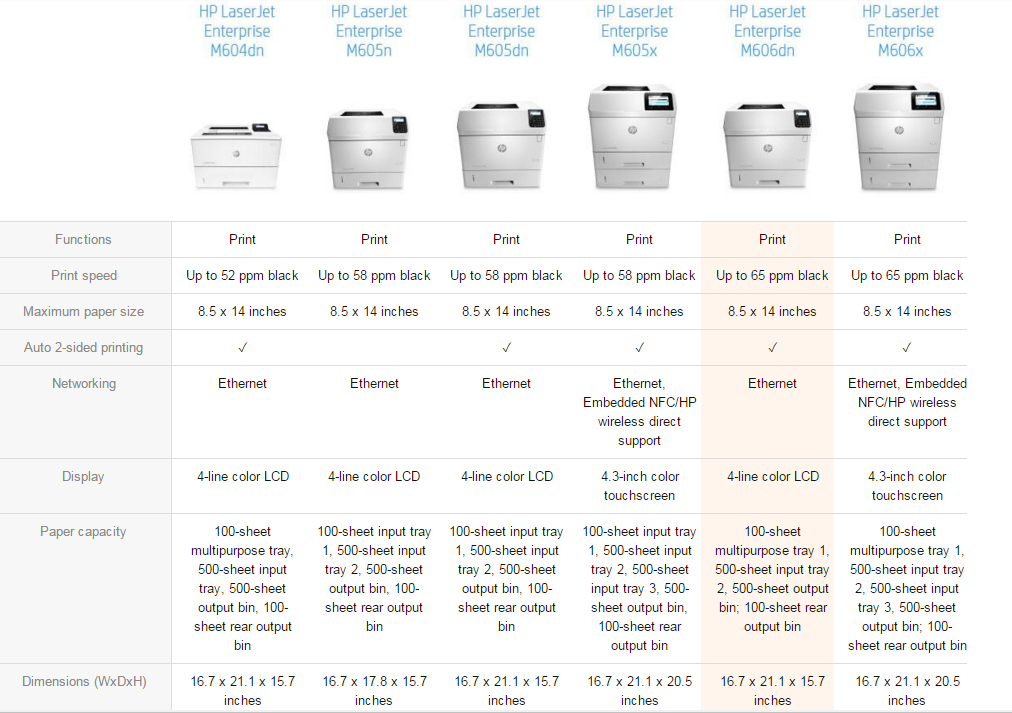 Print Fast please!
So let's talk about its strongest point now, its speed. The moment you press the print button till the 1st  page is printed takes about 7.5sec. When printing black and white the print speed is about 65ppm (65 pages per minute). Which is really fast compared to other printers in this category. If you are thinking about getting an M606 you are planning on printing a lot. I would say anything in between 5.000 to 20.000 pages a month. Setting up the printer can be done with an Ethernet cable. Larger groups of the same network can make use of this printer, making it ideal for small or even large workplaces.
—> Check HP LaserJet Enterprise M606 Price and Availability here <—
UI and extra options
The HP LaserJet Enterprise M606x is equipped
with a nice adjustable color touchscreen. Making it even easier to select the printing and customize your printing jobs. Lots of modifications can be done to your prints such as stapling or duplex printing. The M606dn has a 4-line LCD control panel with touchscreen. On both models you can install a pin code in case you want to secure your printer. Changing toner is very easy with this printer. Paper doesn't jam that easy, unless you're trying to print with very heavy paper. You can print with heavier paper, although I wouldn't recommend doing it. There are better options for that.
Low energy cost
On top of that the printer is very environmentally friendly. It's rated as an Energy Star printer, meaning it doesn't require a lot of energy to run. This can definitely impact the cost and save you or your company a lot of money. Shrinking your energy use while helping your company save money at the same time, who doesn't like that.
Conclusion
As I've said earlier, speed and efficiency are this printer's strong suit. I strongly recommend the HP LaserJet Enterprise M606 to anybody who is seeking those quality's in a printer. However, when you are looking for very high quality photo prints then this isn't for you. Go read my photo printer reviews instead. If you have any questions left regarding the HP LaserJet Enterprise M606 feel free to ask them below.
—> Check HP LaserJet Enterprise M606 Price and Availability here <—
Vincent
Share This: