Best Color Laser Printer of 2016
Why a Color laser printer
This guide will help you in your search for the best color laser printer of 2016. I'll start with some general features that a good one should have. Next I will give you my recommendations and at the end of this article you can find some final notes and a conclusion.
Color lasers can be appealing to a lot of people. You can find them at home, for personal use or home businesses, but also in small and big offices. Everybody who wants to print a lot of both plain text and photographs can benefit from this machine.
If you are planning to print mostly photographs, you might want to consider getting an inkjet instead. This is because inkjets have some extra features regarding graphics, that others don't have. An inkjet in the same price class will pretty much always produce higher quality images. On the other side, a toner based instrument will produce better text prints.
So if you are planning on printing a lot of text with lots of graphics added to it, this type might just be what you are looking for. Below I'll share my personal experiences with them. Overall the ones I reviewed had all the qualities most people are looking for. Only a handful didn't pass my tests, but I won't be referencing them here so don't worry.
Recommendations
Recommendation #1: Brother MFC9130CW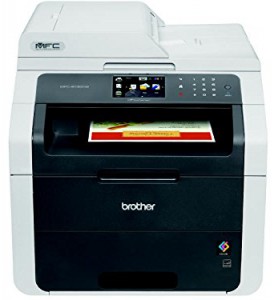 The Brother MFC9130CW really is what I would call a jack of all trades. Other than the standard all-in-one options, this machine comes with some extra features you normally wouldn't expect. Like a cost-saving feature and its deep sleep mode for example. This multifunction device can reach up to 19ppm. It has a top-loading design to make things even easier, so replacing toners was child's play. Furthermore it comes with a 3.7" color touchscreen display and has a wide range of connecting options.
---
Recommendation #2: HP Pro M277dw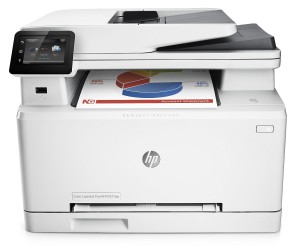 The HP Pro M277dw is another color multifunction device. This machine strongest point is its immense reliability. Paper jams or toner problems are very rare. Its speed is another advantage. The first page can be printed in as little as 11.5s. It comes with a lovely color touchscreen and all options you would expect from such great technology. The only downside in my opinion is the toner yield. The 1500 page black and white toner yield was a little low for me. For others this one might be exactly what they were looking for.
---
Recommendation #3: HP Pro M252dw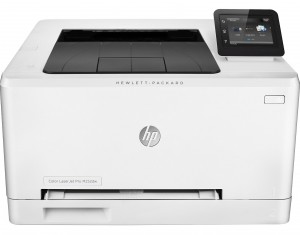 The HP Pro M252dw is very comparable to the M277dw. Its speed is up there with all the other models in the same price range. Setup and connecting to the M252dw is very straightforward. It comes with built-in wireless, two-sided printing, business apps, 3" color touchscreen and much more. The quality of the prints is its strongest point I would say. All colors looked very impressive to me. There are a lot of settings you can adjust to get the absolute best result.
---
Recommendation #4: Brother MFC-L8850CDW
The Brother MFC-L8850CDW is in a bit higher price class than the others I mentioned, but for good reason. You can get ultra-crisp printouts with a dpi up to 2400. Ideal for everybody who wants to print a lot. The toner yields are better than with the Hp's. It can reach up to 23ppm. Very flexible functions with lots of settings. Comes with an endless array of wireless connecting options. The 4.85" color touchscreen is a nice addition to this already very refined instrument. You can find my full Brother MFC-L8850 Review here.
---
FINAL Recommendation: Brother HL-3170CDW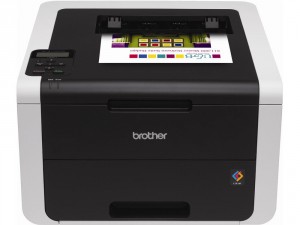 The Brother HL-3170CDW is not without reason an overall best seller. It can print up to 23ppm and has some really nice extra qualities like duplex printing and wireless networking. So printing from a mobile device is super easy. Print quality is just amazing. If you decide you want to print black and white you can easily adjust its settings to mono. Even if you run out of color toner (with a yield of 2200 pages) you can still print in mono. What can I say, this is my personal favorite!
---
You don't even have to believe me that everything I just mentioned are the absolute best. You can just read some other user reviews here:
–> The Hardest Part of Set-Up Was Unpacking This Printer
–> Excellent purchase that exceeded my expectations in every area including…
–> Glad to ditch ink, finally.
–> We lovingly refer to this printer as "the beast."
Aren't they expensive?
To get back on the price, lasers tend to have a bit higher purchase price. Although, if you want to print a lot they will have a lower total cost of ownership in the long run. This is because toners are less expensive than cartridges and on top of that they also have higher yields. You can expect these machines to be in the $100-$500 price range. More expensive models are available but the ones above have everything most people desire.
General Features
Needless to say after you read this article, many of my recommendations are also multifunctional. Typical color laser printers specs are duplex options, wireless networking and scan, copy and faxing opportunities… They are all suited for offices and at home.
Conclusion
Many brands claim to have the best color laser printer. I tested every model myself (it took me quite a while!). If you are still unsure about what to do next, maybe you can read my ultimate guide about the best printer next. It has a lot of tips and some other recommendations that you might like instead.
I really hope you learned something from this article, I'm doing my very best to make it both informative and interesting. Don't forget to leave a comment below and share this page on all your social media.
Share This: