Best Epson Printers of 2016
My Personal Best Epson Printers of 2016 Guide
On this page I will be discussing

the best Epson Printers of 2016. Epson has a lot of great printing machines to offer these days. In fact, they take up quite a big part of the printer market. It doesn't matter If you are looking for either a home or a small or medium sized business printer, Epson always has something to offer for you. I will discuss the 3 big categories of Epson models and give you my personal recommendations. So stick around and I'm sure you will find something here that suits you. If you aren't a big Epson fan yet, read this.
Epson, not  just some small company
I want to share some background info about the company to give you an idea about what they do. If this doesn't interest you, skip this part and go straight to my recommendations below.
Epson is a part of the Seiko group which produces watches. When Seiko came up with their 1st printer, they called it the EP101. Every other model that was produced after the EP101, they called ''son's''. Hence the name Ep-son. Epson is a huge player in the printing world, with over 72.000 employees worldwide. Their printing machines make use of the 'Micro Piezo Technology', which gives them a competitive advantage on both flexibility and quality compared to other manufacturers.
What types of Printers Epson excels at
For starters, there are 3 main categories of Epson models. There are the Expressions, the WorkForces and the EcoTanks. Other than those 3 different types, there are also some other smaller groups, like the commercial and the professional photo copiers for example. Every kind of user can find something interesting that suits him/her, but I will mainly focus on the types I just mentioned.
1) Expression
Let's start off with the Expression model. This type is designed for home users. They usually excel at printing photos and smaller print jobs. Don't let the term 'home user' fool you, the Expressions can deliver some exceptional good quality prints. This model is particularly interesting for the creative types since it's ideal for photo and cd printing and other creative projects.
Recommendation nr 1: Epson Expression Premium X-610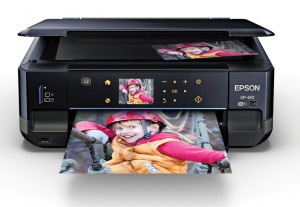 This is a wireless color photo printing machine with a scanner and a copier. A very interesting option for a lot of people. Its main design is rather simplistic, but efficient. You can print borderless up to 8.5 by 11 inch and its equipped with build-in Wi-Fi. To read the full Epson Expression Premium X-610 review click here.
2) WorkForce
Secondly there are the Workforces. They are ideal for small and medium businesses.  The Workforce can provide reliable and fast performances that are most suited for office and workgroup environments. Even for home users who need to do a lot of scanning and faxing this type can be very appealing.
Recommendation nr 2: Epson Workforce Pro WP-4535DWF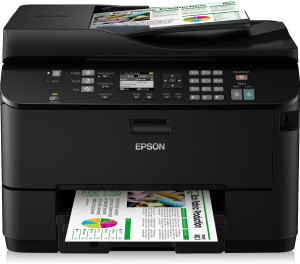 This multifunction inkjet truly is a working force. Even though it is an inkjet, it terms of performance it can compete with most lasers. It's very cost efficient and comes with quite a few of connectivity options, like Air Print, Epson Connect and Google Cloud Print. Read the full Epson Workforce Pro WP-4535DWF review here.
3) EcoTank
Thirdly there are the EcoTanks. Not specifically targeting home users or businesses, but they can be interesting for a wide variety of customers. They make use of a revolutionary technology that allows us to print at a much lower cost per page. This of course thanks to the awesome EcoTank system. I absolutely love this type as it is so easy to use and the total costs go down so drastically, especially if you print a lot.
Recommendation nr 3: Epson WorkForce ET-4550 Ecotank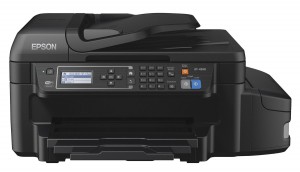 This high-quality machine will keep on going. Thanks to the amazing EcoTank technology, this device can keep on going for years without you having to refill any ink. With the first set of ink bottles you can make up to 11.000 prints. Pretty amazing isn't it? Read my full Epson WorkForce ET-4550 EcoTank review here.
Questions and conclusion
If you happen to have any question regarding these best Epson printers of 2016, make sure to leave a comment below or contact me on my contact page. In case you are interested in the other types that Epson manufactures just let me know and maybe I will write another page about it too.
I hope you enjoyed reading this and I'll speak to you soon.
Vince
Share This: