HP OfficeJet Pro 8720 Review
HP OfficeJet Pro 8720 Wireless All-in-One Photo Printer with Mobile Printing
In this review I will be taking a look at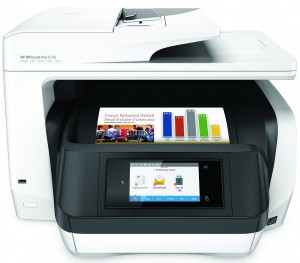 the HP OfficeJet Pro 8720 All-in-One printer. It's an easy to use printer and connecting to the Wi-Fi network is simple and straightforward. Thanks to the high yield ink cartridges you can make this machine run on a low budget. 
I will talk about some other pro's and con's about this product, discuss some of its most important features and see how it relates to other great HP Printers.
Design
As for the design of the 8720, well it's a typical all-in-one device with the document feeder on the top, as well as the legal size flatbed scanner, the output bin for the pages that you print, a USB slot,…
I can tell you that it looks modern and big, but I guess that size is a relative issue here. You can learn about the potential clients of the 8720 by reading its name. I mean small and medium businesses of course.
HP claims that the work capacity of the Pro 8720 is up to 30,000 pages per month. Considering its speed and low cost printing ability, you can already guess this machine is a true workforce in any office environment.
Speed
Let's talk about the specifications of the 8720. If you want to print in black and white it can print up to 24 pages per minute in normal mode and up to 37 pages per minute in draft mode. If you choose to add more colors to your life it will print up to 20 pages per minute in normal mode and up to 37 pages per minute in draft mode. If you're going to use the 8720 as a copy machine the output will be up to 37 pages per minute. It can scan up to 17 pages per minute in black or up to eight pages per minute if the scanning includes more colors.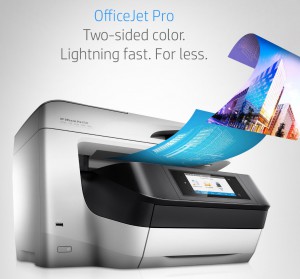 The document feeder can hold up to 50 pages. The paper tray can contain up to 250 pages but there is an option to add an extension tray that goes beneath the device so it can contain up to 500 pages.
Of course it allows you to print, scan and copy pages from both sides.
Connection
Since this is a wireless all-in-one device you should connect it to a Wi-Fi network and then it will work with every device that is connected to the same Wi-Fi network. You can also download an application that will allow you to print from your mobile device and manage the 8720. As for the specific application to download, I saw on the Google play store that there are several applications by HP. So the moment I will figure out which one is relevant, I will update this information right away.
–> See what other have to say about this <–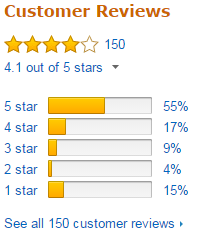 What do you get?
Let's see what else you get when you buy the 8720. In addition to the OfficeJet pro 8720, the package included the following:
power cord

caution note about the ink cartridges

brief user manual

Illustrated guide to help you set up the printer

Phone cord for the fax machine

CD with the relevant drivers and software to install the printer

4 separate ink cartridges
Keep in mind that all the relevant information on the CD is available online on the HP website.
One thing that was not supplied with the 8720 is a USB cable. Mostly you won't need the USB cable, unless you have any plans to connect the 8720 directly to a computer. If so you should pay the extra bucks in order to get one.
HP offers three years guarantee for this product. If you ask me you can sleep well at night. Up until today I had a very good experience with HP's customer service.
The ink cartridges that you can get for the OfficeJet pro 8720 can last between 700 pages to 3,000 pages and the ink cartridges supplied with the printer itself will last for 700 pages and each of the color cartridges will last for 400 pages.
Although the prices of ink cartridges can be very expensive, HP claims that their cost per page using the OfficeJet pro 8720 can come up to fifty percent less compared to other printers, including laser printers.
Getting started
If you have to set up the product for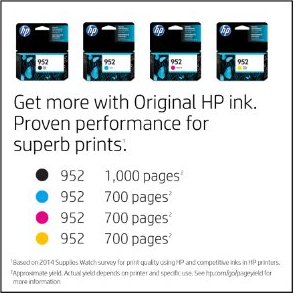 the first time, the first thing you have to do is plug the power cord to the back of the device. When you install the cartridges you have to make sure that the color in each cartridge will fit the colors inside the printer itself. The installation was very efficient and takes about ten minutes which is very nice. You can adjust all the settings to your likes with the touchscreen on the front. Again, this is also very user friendly so don't worry about it. When you start the machine for the first time you can choose between 'self-managed' and 'it-managed'. Self-managed is the guided setup of the device. With it-management you can configure some more advanced settings.
You can also find all of the setup information in the user manual, which is very informative. So if you really want to learn how to make the most out of this device and all of its settings make sure to check the manual too.
Conclusion
The HP OfficeJet 8720 Pro can be perfect for many small and medium sized offices. Anybody who is looking to get their printing jobs done in an easy and cost effective way, will do good with purchasing one of these. I would definitely recommend this product. It is very similar to the HP OfficeJet 8710 or the HP OfficeJet 6978, for which I also wrote reviews, so make sure to check those out too.
If you still have any questions about this device please comment about this review and I will do my best to give you an answer about it. If this review was helpful and you enjoyed reading it I invite you to share this on your social media.
You could also visit me on my facebook page, Google+ page or Twitter account account. So there are plenty of ways for you to follow me and share my reviews. Finally I would like to thank you for reading this and I'll speak to you soon!
Vince
Share This: