HP OfficeJet Pro 8710 Review
HP OfficeJet Pro 8710 Wireless All-in-One Photo Printer with Mobile Printing
Welcome to my full review of what's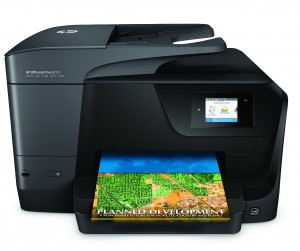 my favorite printer ever, the HP OfficeJet Pro 8710. So to start off, the previous model, the HP 8610 is currently discontinued, at least as of amazon and there is a new version out now, which is the HP 8710. This new model is very similar to the 8610 apart from a few upgrades here and there. This printer is also my final recommendation in my big printer blueprint.
Design
To control this machine you literally have a ton of options. Of course the 1st and most convenient one is the touchscreen display on the front of the printer that even articulates to gives you a nice angle to use the printer. The display also gives you easy access to all the features like the setting, just quick copies or also scanning documents. On top of that it's also possible to change all these settings from your computer that is connected over the network or even using the HP printing app. This app not only allows you to print directly from the app but also for example to scan documents with your smartphone and then print them directly on the 8710, so that's definitely a strong point.
It actually has a closed paper compartment so that there is no dust getting in to the printer and on top of the paper, which is something that you don't see on all printers but that's at least in my opinion very usefull and important.
Comparison
To give you a quick comparison I've also added a comparison chart. You can also click the image for more detailed  and product specific info.
Speed and Multifunction Options
As the titel suggests, this is an inkjet printer with color and Wi-Fi for mobile printing. It's also capable of 2-sided printing and it features a speed of 19 pages per minute when its printing black and white and 14 pages when its printing color and it can also print duplex. So the speed is in the upper mid-range, of course there are faster printers but there are also a ton of printers out there that are much, much slower.
Now the printer itself takes HP 950 or 951 cartridges and they last up to 1000 pages. Furthermore this printer also features a scanner with resolutions up to 1200 dpi which is quite good for document scanning and you can either scan in the flat bed or from the ADF, which is an automatic document feeder, which is absolutely amazing if you want to scan or even copy a ton of documents.
Connections
Continuing on to the ports, we'll see that we have a ports for wired network functionality as well as a USB port. The USB can for example be used to print or scan directly from or to the USB drive. Wi-Fi makes it possible for you to print from your mobile devices with the HP ePrint app or the All-in-one Remote app. This printer also supports Apple's AirPrint, so you don't even have to install an HP app if you prefer not to do so. So that's very convenient as well.
Quality and Reliability
The last aspects (and probably the best) that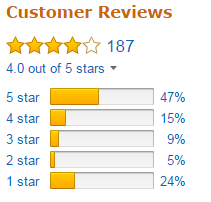 I want to point out are the reliability and the high quality. I've been using it for half a year now and I haven't had any printing issues whatsoever. Even after unplugging it and resetting, everything kept working very smooth. All in all a very strong printer that I would recommend to everybody!
If you liked this HP OfficeJet Pro 8710 review don't forget to share it and if you have any questions please leave a comment below. If you really like HP but this model doesn't seem right for you, go check out my best HP printers of 2016 article.
Share This: