HP Laserjet Pro M452dn Review
HP LaserJet Pro M452dn Color Printer Review
The HP Laserjet Pro M452dn is a color laser printer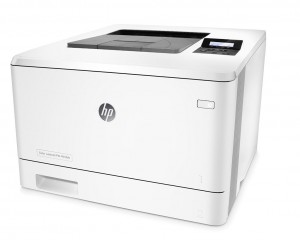 suitable for small and medium sized offices, printing up to 4000 pages per month. In terms of paper handling, this machine is actually not that impressive. The main tray can hold around 250 sheets and the multi-purpose feeder can only take up to 50 sheets. This seems quite light considering that it can print up to 4000 pages per month. There is an optional 550 sheet paper tray available which I do recommend as it leads to less down time but it just doesn't beat handling a full ream of paper straight out of the box, like most lasers can. 
Yield
The starter toner cartridges in these new HP lasers come pre-installed. So setup is fast and easy. With this model you get cyan, magenta, yellow and black starter toners rated around 1200 pages each. Which is enough to get you going, but busier offices will most likely be better off getting replacement cartridges with the printer. The toners come in two different yields. The standard offering up to 2300 pages each and the high yield giving up to 5000 and 6500 for color and black respectively.  I always recommend the high yield toners as they contribute to less down time, a lower cost per page and a much lower total cost of ownership.
Special features
Apart from the low paper capacity this is a really good machine. The print quality is great on a wide variety of media and it can even handle HP's glossy laser paper, which weighs around 200gsm. Using the glossy paper allows you to create really eye catching documents which is perfect for presentation material. This kind of paper combined with high print quality settings, taking advantage of HP's great toner, makes for print quality not normally seen at this price point!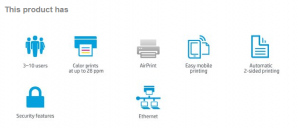 Connection
In terms of connection options the M452 has the usual USB and network connectivity we all know and love and if you have a wireless modem you can connect it to that and print over wifi. Mobile printing capabilities make for a more versatile printer, allowing it to integrate into most working environments. Its wifi also allows you to use printing apps like HP's Eprint, Google Cloud Print as well as Apple's AirPrint. The M452dn will run on Windows, Linux and Mac operating systems and the setup itself is pretty simple. Once you have the installer on your computer just go through the options and register the printer at the same time.
Performance and Conclusion
In terms of performance: 27 pages per minute, with a first page out around 9 seconds, is pretty standard for a machine like this, but it will also print 24 sides per minute when printing in duplex and that's pretty good. I didn't take this model in my full printer guide, but for some it may be a very interesting option.
All in all I think the HP LaserJet Pro M452dn color is an ok printing machine. The paper handling out of the box isn't great and the performance is nothing to write home about, however, taking its price into consideration it's an absolute bargain. If you are looking for a reliable color office printer with great quality output at a fair price then look no further.
If you have any questions regarding this machine feel free to leave a comment below.
Share This: