The Ultimate Guide to Finding the Best Printer of 2016
1) Introduction
The point of this guide is to help you in your search of finding the best printer of 2016, as the title suggests. After reading this you will know what to look for. Yet before going into too much details about what the best machine could be for you, I will discuss all different kinds out there first. After all the technical information, I will guide you in your buying process and give you my personal suggestions.
You will notice that my list of suggestions may differ from other lists. I have to be honest with you, my results and findings are not gathered in a lab. Instead, I went out and tested everything myself in my own basement. Don't expect any scientific rankings or whatsoever, just straight-up, personal opinions.
I've written quite a few reviews that should ease your search. So if all you are looking for are reviews, I suggest you to skip this guide and go read my reviews instead. However, if you are unskilled and you are looking for more in-depth information, then keep reading because this guide is what you need!
In this age of technology, not a single day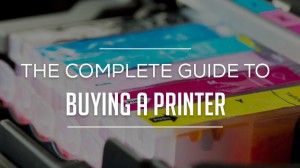 would pass without you using technology during the course of executing your official assignments. They have become part of our everyday routine. Every office has them. Every house too has them today. In short, they are a necessity in everyday life. These days there are lots of different kinds. We shall explore each type in detail. We shall also see the qualities one should expect in the best printer of 2016.
In very simple terms, you can define a printing machine as any device that can enable display of text or illustration on paper. Let's dive into some history aspects of our beloved device first.
2) A peep into History
The credit for inventing the world's first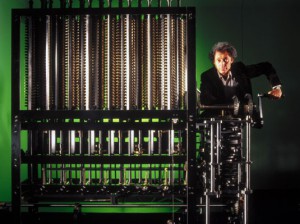 computer printing device goes to Charles Babbage. He called his machine as "the difference engine." This was a 19th century model. This machine is the base for the modern types you see today. The 1980s saw the birth of the daisy wheels. They were very much similar to typewriters. The line- and dot matrix followed the daisy wheel. They had the quality to mix graphics with text. However, those were pretty expensive at that point of time.
3) Modern Times
The search for a low-cost alternative led to the invention of the laser printer in 1984. This sparked a revolution in the printing field. The sustained use of the lasers led to the virtual extinction of the expensive offset printing equipment. Smaller models that can be put on a desk then made their presence felt all over the computer world.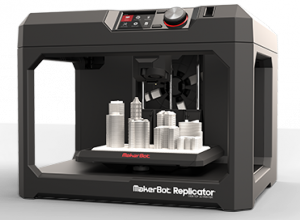 These first deskjets had great use as an effective means of physical storage of data. However, the 21st century has seen the emergence of reliable storage systems making them a bit redundant. People use e-book readers and computers for storing and reading large volumes of data. Although, printing photographs and artwork can't be that easily replaced. In the last 10 years, the world has also seen the emergence of 3D printing.
4) Different Types
You can broadly classify into the following types. All of my best recommendations come under any one of the following categories.
Personal

: You can see examples of this category in every home/household. You can connect them to one or more computers. They support individual use. Most personal devices used to be slow devices capable of printing a maximum of 25 pages a minute, but with ever-changing technology some very fast models are available now too. Read about the fastest inkjet printer here.

Network or shared

: You can see them in offices where you require high-speed printing. The volume is also high. Moreover, you can connect it to a network enabling more people to access it.

Virtual

: As the name suggests, this is a piece of computer software with the user interface and the API resembling that of a driver. You cannot connect it to any physical computer.

3D

: Using this innovative technology, you are able to create 3D images. This procedure has a wide range of applications in various fields of research such as space exploration and medicine to name a few.
5) Technology
The technology employed ensures a direct relation between the cost and the speed as well as operational aspects. You can see that documents printed using inkjet printers are more difficult to tamper than those printed with lasers. Banks all over the world use the Magnetic Ink Character Recognition technology to print the lower end of the check leaves. These are some of the modern print technologies used by the best printers in 2016:
The prime example of machines using this technology are the ones with lasers. This type can produce high quality text and graphics at a rapid rate. The digital photocopiers also use an upgraded version of the same technology known as the 'xerographic' printing process. One more advanced version of the same technology is making use of LED's instead of a laser to cause toner adhesion to the drum. If you know you want a laser you can go read my Best Laser Printer Guide here.
Recommendation #1: Brother HL-5450DN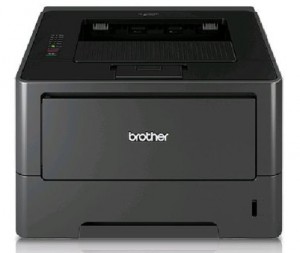 The Brother HL-5450DN is a monochrome toner-based type. Duplex and Networking are key features with this machine. Its large toner can yield up to 8000 pages. This is huge and makes it very cost efficient. Connecting to it is super easy, with a wide variety of options (like IPrint&Scan, Google Cloud Print, AirPrint,…). Read the full Brother HL-5450DN review.
This technology envisages the printing operation by propelling variable sized droplets of liquid ink on the pages. This is the most commonly used tech in every household. The ink permeates the fibers of the paper making it more difficult to tamper. If you are already convinced you need an inkjet you can go read my Best Inkjet Printer guide here.
Recommendation #2: HP OfficeJet Pro X576dw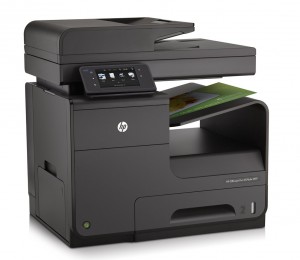 Whoever says inkjets can't be fast, is proven wrong with this one. The HP OfficeJet Pro X576dw is currently holding a Guinness World Record for fastest Inkjet. It's very energy friendly and comes with high yielding cartridges. This all-ine-one will certainly amaze you. Read the full HP OfficeJet Pro X576 review.
This technology employs the use of solid ink instead of liquid ink. Also known as phase-change models, these are a type of thermal transfer devices. It envisages use of solid sticks of CMYK-colored ink, melted and fed into piezo crystal operated print heads. The print head sprays the ink on a rotating oil coated drum. As the paper passes over the print drum, you can see the image transferred onto the page. Photographic devices employ this technique. Solid ink can produce excellent quality pictures. However, there is a small drawback. The drawbacks include high-energy consumption and long warm-up times. In addition, you would not be able to write on the prints, as the wax tends to repel the inks from the pens.
These use a special technology using heat as a medium to transfer dye to the paper, plastic card, or canvas. This type is mostly used for color photography. People rarely use this type to print text. The output is of excellent quality.
This special kind works by selective heating regions of a special heat sensitive paper. You can see such machines in cash registers, ATMs, as well as gas bunks. You can achieve color prints too. The output does not last long. You can see fading of the output after some days. The technology used here is Zero Ink Technology (ZINK).
6) Characteristics
Every type has some common characteristics. I will explain the meaning of some of the unique terms people use while discussing every type. I will be also be using those terms in my reviews and other articles.
Print Speed: People use the term pages per minute (ppm) to denote the speed. This basically means how many pages in a minute can be printed. This can differ quite a lot. Inkjets are usually slower compared to lasers. The dot matrix models are supposedly the slowest. The ones I review are along the top of the line so you can expect a decent ppm. Speed also depends on the nature of prints. In case you require a color print, the speed is slower than that of a monochrome print. At the same time, printing graphics and photos takes more time in comparison to text prints.
Recommendation #3: HP LaserJet Enterprise M606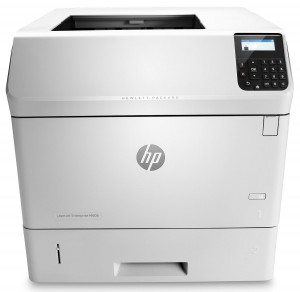 Earlier I mentioned a speed record holding inkjet, but the true speed maniacs are still lasers. The HP LaserJet Enterprise M606 can reach up to 70ppm. If you wan't to print a lot in a very short time and with low costs, this is your best choice. Read the full HP LaserJet Enterprise M606 review.
Resolution: The term dots per inch (dpi) represents the resolution. It is a measure of the sharpness of the text or the image. You can find different resolutions in different kindsUsually the dye-sublimation results are the best as far as the resolution is concerned. This explains their use as color photographers. The solid inks also display a higher resolution in comparison with other types. The higher the dpi, the better the quality. In case you envisage printing lots of presentations such as quality text and graphics, you can go in for a higher resolution.
Operating Cost: You should remember that your expenses do not end with just the purchase. In fact, purchasing a cheap model can end up costing you a lot more in the long run. Cheaper models tend to have a higher total cost of ownership. Do not go over this lightly if you think you will be printing a lot. You may have to shell out substantial amounts in the future for cartridges, toner, paper, and so on. You should factor all these costs in your operating cost.
Warm-up time: You should know that any system would not be able to print when it is cold. There is a specific warming time before you get the first printout. Some have a short warm-up time whereas some have longer time. Most lasers do not take much time for warming up. On the other hand, the dye sublimation machine can take comparatively longer time for warm-up.
Onboard memory: Every computer has a certain amount of memory allowing for storing of printable data. This quantum of memory is the onboard memory. You can also judge the quality of the device from its onboard memory capacity. A higher onboard memory enables a longer print queue. Printing machines used in offices today usually have a very high onboard memory.
Paper format: The size of the machine determines the size of the papers for printing documents. In the older generation dot matrix, you had the 80-column and the 132-column paper size. The modern printers classify the paper size as A4 (commonly used), A3, and so on. Many of them can also print on legal sized paper or special kind of paper. You can also print documents on CDs DVDs and labels.
Paper feed: Paper feed is the method of loading the paper into the paper tray. Some have rear loading whereas some have top loading. The lasers for home usage normally use the bottom feed method. Inkjets tend to use the rear-loading mode. There are three aspects to consider here:

Feed tray: This uses an internal paper feed source. You can feed a fixed number of paper sheets depending upon the capacity of the tray.

Sheet feeder: You can insert paper in small quantities. The feeder would be either horizontal or vertical.

Continuous feeder: You can see such feeders in offices and banks where you may need printing on continuous sheets of paper.
Cartridges and Toner:  Every brand and even every model has their own cartridges or toner. You can find monochrome cartridges as well as multi-color cartridges. Naturally, the monochrome cartridges are cheaper as they use only one color. Don't forget: Cartridges are for inkjets, Toners for lasers.
Connecting

: 

This is the medium of connecting the computer or any other device to the printer. Often you can connect in many different ways. The most commonly used method is the USB followed by the Parallel and the network cable methods. Nowadays, you come across a new term, Wi-Fi. Making it possible to connect through a wireless network. Naturally, you require a Wi-Fi connection for using this method. The top rated printers of today are usually Wi-Fi compliant. Slots for digital camera's etc are not always available. Make sure to check this if you need it.
Recommendation #4: Epson Workforce Pro WP-4535DWF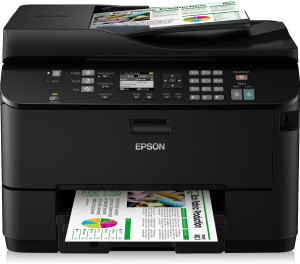 Having a great connection setup is crucial these days. With the Epson Workforce Pro WP4535DWF you have a wide variety of options you can connect with. For example there is Epson Connect, Google Cloud Print and AirPrint. This multifunction inkjet can deliver nice quality on both plain and photo paper. Read the full Epson Workforce Pro Wp-4535DWF review here.
You have now seen the technology in use as well as the different characteristics. Armed with this knowledge you have a much better grasp on how they can be categorized. However, I shall now give you more specific tips on how to choose the perfect printer for your use.
7) Deciding what type of printer you want
There are hundreds of brands and models available on the market. Some have additional features such as scanners, copiers, and so on. Those are called multifunction printers. You should know what type you require. Just because it looks attractive, doesn't necessarily mean it suits your requirements. In case you want fast printing, it makes sense to go for a laser printer rather than the inkjet ones. You should ascertain whether the device has a memory card reader-attachment. Many top rated models have one.
7.1) Know your budget
This is another important aspect. After
all, it is your money. You should put it to the most productive use. Many fancy printers in the market can burn a hole in your pocket. You should have a clear idea about your budget. It is always better to do your homework before venturing out to effectively purchase. You should stick to your budget. Marketing gimmicks abound in the markets today. Have a levelheaded approach.
7.2) Consider the utility factor
Different types have different specialties. In case you have a requirement of printing large quantities on a daily basis, you should opt for the lasers. In case you run a small business, you may require one with scanner as well as copier. In case you envisage occasional use, you can go for the inkjets. In case you are a photographer by profession, you should go for a high-quality photograph model.
7.3) Look at features more important to you
The best printers today come with wireless compatibility. This could be useful to you. It is always good to move with the times. These are additional features not costing you much. In addition, they are vital today. Many smartphones come with wireless printing compatibility. Hence, it makes sense to choose such type. You should factor in this quality before fixing up your budget.
7.4) Know your operating system
Your printer would be useless without the computer. Every computer has a specific operating system. Luckily for you most printing machines are very compatible and will always run with Windows or Apple devices (also check compatibility with Windows 10 or earlier versions). Nevertheless, You should know the operating system of your computer. While scouting over the internet or in a local store, you should choose a compatible model. You should know for example that the Lexmark printers (I barely promote them on my site so don't worry) do not support Linux OS. Hence, knowing your operating system is still of prime importance.
7.5) Why Inkjet printers are good for you
They can deliver high quality color photos at a reasonable price.

The price range goes from $40 to $700 depending upon the utility and features.

These are cheaper than lasers of the same size.

The top rated inkjets usually offer 4800 by 1200 dpi resolution. However, they may vary in the printing speeds.
Some drawbacks of inkjets:
You may incur recurring costs for cartridges. The color cartridges are expensive. You have an option of refilling them. However, you should not go for this option as the colors may leak rendering your machine unfit for use.

It is more prudent to purchase color printers rather than the monochrome ones. It may be expensive earlier on but things would even out with usage.
7.6) Why laser printers are good for you
In case your job envisages lots of printing, the laser ones are always better than the inkjets. An inkjet may be cheaper in purchase, but the recurring costs will be higher. Changing toner is also necessary, but you can print a higher number of pages with one toner than with one cartridge.
7.7) Do the Comparison
You have done the hard work of seeing and choosing the best printer for your use. Now you should go ahead and complete the purchase. Dont forget to compare prices before finalizing the deal. You should also factor in the shipping costs as well as the after sales service. Some printers can be bought online without shipping costs and have a really low cost of operating it. Based on these factors you can take a measured decision of purchasing the best printer for your use.
8) Where do you buy the printer
You have two simple methods. One is the online purchase and the other one is the traditional purchase. Both have its merits and demerits. In your local store you could ask the salesperson for advice. However, he is a salesperson and might not always give you the best advice. After all, he will try to sell something (duuh it's his job).
Hence, the online method has become a very popular mode of purchase today. In all my reviews you can find the best place to buy your new printer. You can check all my honest reviews about the best printers of 2016 for free, without me trying to sell anything to you. You don't even have to leave the house for it.
9) Some final tips
You should always go for a top rated brand while purchasing printers. Such brands include Hewlett Packard (HP), Epson, Canon, and Brother. There is no need to go for a brand you haven't heard of before, stick with what you already know and the tips I'm giving you. No need to reinvent the wheel.

Online purchase can be cheaper. You have all the information you need right here and often there are no shipping costs involved. 

In case you purchase from online stores such as Amazon, also check for availability of the cartridges.
Recommendation Best Printer 2016: HP OfficeJet Pro 8710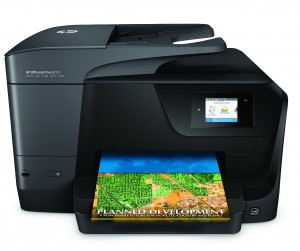 This all-in-one color photo printer is such a versatile printer. It comes with wireless and mobile printing options. Cartridges are available for every kind of user, whether you are planning on printing a lot or just making a few prints every month. Installation and setup are super simple and it can produce very high quality printouts. You can find the full HP OfficeJet Pro 8710 review here.
10) Conclusion
You have seen the different aspects that a
good printer should have. You have seen the attributes that the best types can and should possess. This information should prove handy for finalizing your purchase. I really hope you enjoyed reading this guide and I'm sure it will help you in making your buying decision.
If you would be left with any questions, don't hesitate to ask them in the comment section below and I'll be more than happy to answer them.
Share This: