Epson Workforce Pro WP-4535DWF Review
Epson Workforce Pro WP-4535DWF Multifunction Inkjet Printer Review
The Epson Workforce Pro WP-4535DWF is different from a typical inkjet. It's designed to be a viable alternative to lasers at home or in a small office. So the first thing you'll notice, is that it actually looks more like a laser machine than an inkjet. Crucially, unlike many inkjets this one is extremely cheap to run and if left, will put most common laser machines to shame.
Performance and Ink
Epson DuraBrite Ultra pigment based four color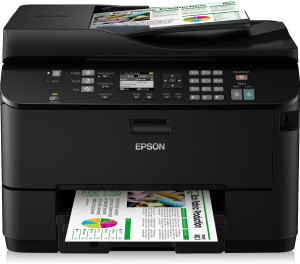 Ink technology delivers brilliant, instant dry, water resistant, long lasting printouts on both plain and photo papers. The print resolution is very good.
What issue that customers hate about some inkjets are the tiny ink cartridges that will run out every few days. On top they are awkward to replace and end up costing you a fortune. You'll be happy to hear that Epson manufactured 3 ink sizes to fit within everyone's budget.
They couldn't be easier to replace (image on the left) and if you opt for their 3400 pages extra high capacity cartridges (which I recommend), you will not only get the best cost per page, but also get the added benefit of fewer print interruptions. In the long run, this printer can end up saving you a lot of money.
Speed
Everybody knows that an inkjet can't keep up with laser when printing long runs, especially if you're printing high resolution graphics. However, what you need to consider is the type of user you are. If you are only printing, say up to 10 sheets at a time, there is a good chance that this machine has finished printing before a laser has even warmed up.
As with all inkjets, its speed is totally dependent on the document you print and the resolution you set, but the Epson's WP-4535DWF benchmark is rated at 16 pages per minute in mono and 11 pages per minute in color. To be clear, this machine isn't going to win any medals regarding speed. If you are looking for something faster, go read my fastest printer review.
Interesting to know is that the Epson Workforce Pro WP-4535 DWF print head is actually larger than many other inkjet machines, which also helps working trough any print jobs you throw in its direction.
Energy
Another benefit of inkjet is the amount of energy you will end up saving. Due to the high temperature required in even a moderate compact laser machine you should expect to use well in excessive 200 watts. Whereas this machine uses just 19, being very eco-friendly. 
So hopefully this will decrease any reservations you might have surrounding the suitability of an inkjet in the office.
Multifunction Options
As well as print you also get copy,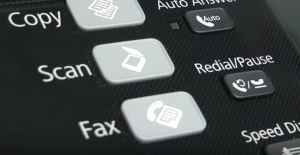 scan and fax. It can print double sided and even has a duplex 30 sheet adf. So it double side copies, scans and faxes.
For anything that won't fit onto the adf there is also a flat bed on top. In the front is a USB-connector if you have to scan directly onto a USB memory stick. A super G3 33.6K fax modem is incorporated into the machine so faxes will  be send and received in no time. All those features make this machine a perfect choice if you are looking for a multifunction printer.
60 speed tasks can be programmed into the machine to make life a bit easier. There is also a 180 page fax memory should you run out of paper. However, that's unlikely thanks to a generous 250 sheet paper tray and 80 sheet rear feeder which is included as standard. An optional, additional 250sheet tray can also be added if required.
Connectivity
Usb, network and wifi connectivity is included. Airprint is included for all Apple, Ipad and iphone users, several mobile apps are available allowing you to print from other type of tablets and smartphones. This machine is also compatible with Epson connect allowing you to print by email. Furthermore, Google Cloud Print allows for printing over the web.

Conclusion
I would recommend this printer to anybody who doesn't make too many prints at a time. The Epson Workforce Pro WP-4535DWF works great for small printing jobs and photos, making it a great option for a home printer or even in small offices. Although one could argue this machine is lacking speed, that's not what you are aiming for. If you choose quality over speed and something that is very cost efficient, this is your best choice.
I hope you liked this review and if you would like any further information please do not hesitate to get in touch by leaving a comment below. Feel free to browse through all my reviews or read my amazing best printer guide.
Share This: