ZUtA, the First Portable Robotic Printer
Robots are taking over!
Last year, ZUtA Labs created a new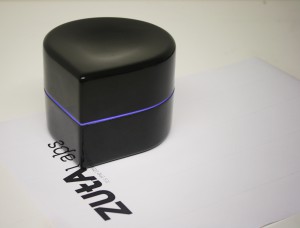 kind of printer, a portable robotic printer. I was so amazed when I read about this small robotic printer I just had to share it with you. The technology that is being used here is absolutely amazing. The ZUtA makes it possible to print everywhere, as it is only 10.2cm in diameter, 7.5cm in height and it weighs only 350gr. As of right now, competitors and other companies are looking into this idea to come up with their own version of this printing machine. One fact is for sure: interesting times are ahead of us. December of this year the first ZUtA's will be delivered. I've already ordered mine and I can't wait to get it. In the meanwhile, you should definitely check out this great portable photo printer too.
Great Features
ZUtA labs made a breakthrough invention by creating the world's first portable robotic printer. The ZUtA printer can be connected to any device with Wi-Fi connection. It can work with all operating systems, is designed to work with micro USB charging to work for around 60 pages or about one hour per full battery. It can print with a speed of 1 to 1.2 pages per minute with a 300 dpi quality (not the fastest printer ever!) on standard paper sizes and prints rather quietly unlike the existing printers we know. All things considered I think this is really fast for such a small device.
A cartridge of ink can produce approximately 100 pages and you can easily replace the cartridge with a new one. For now ZUtA can only print with black ink. Pre order is still open for $299 and the printer is going to be shipped to your door by December 2016.
Desktop printers are always getting smaller and easier to use, but we still have a long way to go. This is why ZUtA came out. To provide people with a very small and easy solution to our everyday printing problems. You can print directly from your phone or tablet on any paper sizes.
My Prediction and Latest Updates
I absolutely think this is the future. ZUtA Labs is definitely ahead of its competitors. According to the latest news, ZUtA is also going to be able to print images. ZUtA Labs has been very honest and straightforward to its customers and continues to do so. '' Beginning with a successful Kickstarter campaign, to winning awards and shows, including the Best of Innovation at CES, we have matured into a great company. As we move forward with the development, our ability to print out different images develops too.'' The last months they have been focusing on getting the accuracy nailed with the robot's movement.
If you are interested in more news about them feel free to ask me in the comments and I will keep you updated, or you can always follow them on their website where they post the latest updates.
Share This: