What are the best printer brands?
What company makes the best printers? This question goes hand in hand with what kind of printer you are looking for. The answer will be different depending on what kind of user you are. There are literally thousands of companies that make printers, so picking out just 1 might be a bit difficult. I will narrow it down for you to what I would consider the best printer brands in no particular order.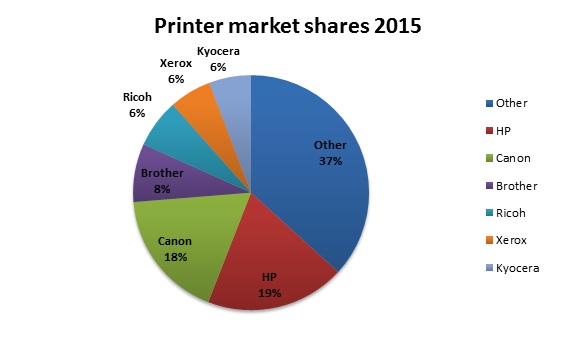 HP 
First brand that comes to mind when thinking about printers would probably be Hewlett-Packard. Up until 2000 no other brand came even close to their market share. This has changed however. The software those printers use hasn't always been that crisp, might be a bit harder to install and can lead to printer errors and paper jams. On the flip side, the quality of the prints is still really high and they have a very wide product range. You can find a review of my recommended HP printer here.
Ricoh 
Their main focus lies with the corporate world and industrial printers. They do a really good job at it and have a very strong footing in that particular market. Ricoh printers are compatible and very reliable. Company to customer service, even after you bought the printer, is amazing with them. When you are looking for more of an industrial printer this might be your go to brand.
Kyocera 
Kyocera makes use of a somewhat different technology compared to other brands. Their printers run with ceramic drums, hence the company name Kyocera. The advantages of this ceramic drum are the lower printing costs and the lower impact on the environment. On the other hand those printers tend to have a higher initial price tag. It wouldn't be my first choice of printer, but in some cases it can be interesting getting one of those.
Epson 
Interesting brand that is the only one who makes use of a different printing process. Other brands make use of the thermal drop on demand process whereas Epson uses a piezoelectric drop on demand. My only experience with this process is that the print head nozzles clog up faster than usual. This is a huge turnoff to me so I wouldn't call Epson a very user friendly brand.
Canon 
Very trustworthy brand. They are a big player on the printer market for a very long time now and cover a wide range of niches. Whether you are looking for an industrial printer or you are a student with a low budget, Canon probably has something for you. Biggest advantage would probably be the reliability of their printers. One thing to look out for are the prices of their ink and cartridges. Those prices lean towards the more expensive side so be careful and do your research before you buy.
Brother 
A brand which main focus is on the personal user market. Their inkjet printers produce great quality prints and are very reliable too. The cost for these printers can be higher in the long term (due to higher production costs) but that shouldn't be too much of a problem for a personal or home user.
Conclusion
Don't forget to check out some reviews before buying. There might be things I didn't cover in this post and you don't want to stumble upon any unpleasantries. Thinking about your printing intentions is a good start. Will you need a laser printer or an inkjet printer? After you can decide what brand fits your wishes the best and finally you can decide to make a purchase. Good luck to you on your next printer hunt!
Vincent
Share This: