Brother MFC-L8850CDW Review
Brother MFC-L8850CDW Wireless Color Laser Printer with Scanner, Copier and Fax Review
As the title suggests, this will be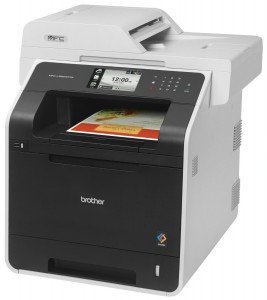 the Brother printer MFC-L8850CDW review. If you are searching for a superb printing machine, then look no further. This model really is top of the line in its class. It is a multifunction color laser printer with a lot of options and that can deliver high quality prints. In this review I will highlight its strong points, but also its shortcomings. A comparison chart with previous models is also included in my Brother MFC-L8850CDW evaluation.
Upgrades, upgrades, upgrades
What is so amazing about this printer is that the brother MFC-8850CDW is an upgrade, that has kept all the great features that were available in previous models. Its conveniently equipped with a lot of different, innovated possibilities that really take this all-in-one machine to the next level when compared to previous models. So just compared to other printers, scanners and fax machines, this printer is big and well build. It sturdy frame and quality pieces turn it into a machine that's suitable for any kind of office environment.
So easy to print!
When the printer is unpacked the setup process is easy and simple to complete. There is a touchscreen that can be used to quickly connect the printer to the local Wi-Fi network. Most computers will immediately see the printer in the network, which means that the machine can get in use within minutes of its arrival.
Laser sharp Graphics
I am very satisfied with the quality of the prints.  Both black and white document printing as well as color photograph printing produces crispness and clarity. When it comes to standard document printing this model is really fast in comparison to other similar machines. Though full color printing takes a little longer, the amount of time is not irritatingly long. This printer can also be used with a smartphone, which enables the direct printing of documents with a compatible mobile device.
Below you can find a comparison chart. Click the image to enlarge and get more details.

Capacity
This brother model comes with a heavy duty tray that can hold 300 sheets of paper instead of the standard 250. There is also a multi-purpose tray that can be used for the printing of envelopes. It comes with a maximum capacity of 50 sheets.
This multifunction machine does a good job in terms of both scanning and faxing. When the default scanning settings are used the task is completed within  3 seconds on average. The scanning surface is larger than the standard which enables easy work with larger documents.
Big Design
Here are a few shortcomings about this particular model. It does a really good job but some buyers might be discouraged by the size of the machine. The dimensions could make it unsuitable for house hold usage and certain areas, especially if you have a smaller room . In addition, moving the printer around could be a bit of a challenge because of its size.
Conclusion of my Review
Now the bottom line though is that the MFC-L8850 is a high quality, all-in one machine that is sturdy and great for use in any  kind of office environment . The printer delivers great quality of documents and printed images and the scanner does an excellent job as well. The price to quality ratio turns this piece of equipment into one of the best options that the market has to offer.
I hope you enjoyed my Brother MFC-L8850CDW printer review. If you decide to get one just follow the link below. Ordering is really easy and shipping is free. If you don't think this is the right model for you check out my other reviews or go here if you want a printer guide with tips.
Share This: