Brother MFC-J6920DW Review
Brother MFC-J6920DW Wireless Multifunction Inkjet Printer with Scanner, Copier and Fax
This is the top-of-the-range Brother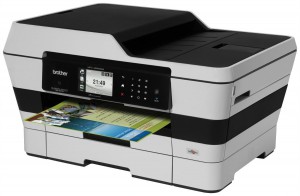 MFC-J6920DW review. I don't know how to put it in any other way, but this machine is flipping awesome! Anybody can make great print outs with this machine because of it high quality technology. Take a look at this review and see why this printing machine can be the next big thing for you.
Design
Now where do I start. Firstly it has two 250 sheet paper trays, both of which can be extended to hold up to A3 size paper. Most people will load A4 into 1 and extend the other to load A3. That way you can print in either A4 or A3 without the hassle of reloading different sized paper. If you rarely print onto A3, so would prefer to load A4 into both trays, then there's also a manual feed slot at the back of the machine which will accept a single sheet of paper book to A3 size. So again no messing around adjusting the paper trays.
Speed
The print speed of this machine is impressive and can go up to 22 images per minute in mono and 20 images per minute in color. Using the maximum print resolution setting, most people will be happy with its photo reproduction, but as with all inkjets, speeds vary depending on document and resolution settings. So get in touch if you need further information.
Multi-functionality
The MFC-J6920DW allows you to do edge to edge printing onto paper up to 220 gsm. It will also double side print all the way up to A3, so anyone printing booklets will love this machine. There's also a full-size A3 automatic document feeder which has a twin scan head so it can simultaneously scan both sides of the A3 sheets in one go. This makes double-sided scanning and copying extremely quick and reduces the possibility of paper jams.
Now if you use the copy feature, set it all up to your network via cable Wi-Fi and it will allow you to scan directly to email in popular file formats such as PDF JPEG TIFF PNG and bitmap.
This machine has some really advanced common features, but rather than boring you with everything it can do get in touch with me or leave a comment below if you want to know more.
It can also fax but you can choose to let the machine forward any received faxes to your email inbox rather than letting them print out on the machine.
Now having loads of features on the printing machine is all very well and good but it's pointless if it takes you forever to figure out how to use them. With the MFC-J6920DW you'll get brothers advanced 4.3 centimeter color touchscreen display which is lovely to use.
Super High Yield
The Brother MFC-J6920DW comes with super high yield replacement ink cartridges, capable of printing around 2400 pages in black and white and 1200 color pages. Printing with this machine will become pretty cheap and the quality doesn't suffer from it at all. In fact, the J6920DW can deliver high quality printouts that would surprise you.
I also want to point out that inkjets use far less electricity so if you're looking for ways of reducing your carbon footprint and costs switching to inkjet is worth considering.
Connectivity
This printer gives you quite some options for connecting to mobile devices. NFC (near field communication enables wireless communication between your devices. Furthermore there are also AirPrint, Google Cloud Print, Brother iPrint and Scan, Cortado Workplace and Wi-Fi Direct which allows you to print wirelessly from any pc or mobile device. Making connection to the machine is easy and without any hassle.
Conclusion
This machine is ideal for any small workplace environment. With all of its extra functionalities any job can be taken care of. A very fast, high quality machine with a low printing cost can be just the right thing you were looking for to take care of all your printing. I hope you liked my Brother MFC-J6920DW review. As always, if you have any questions leave a comment below. For all Brother fans, check out my other best Brother printer reviews.
Vince
Share This: